---
Playing with new ideas while keeping traditional alive.
We are a collective of Japanese traditional artisans who share this goal. From Kiriko and metal mesh crafts, to hand-woven textles and fabrics, we have been giving birth to new and exciting products and constantly strive to realize ideas that are ageless and without borders.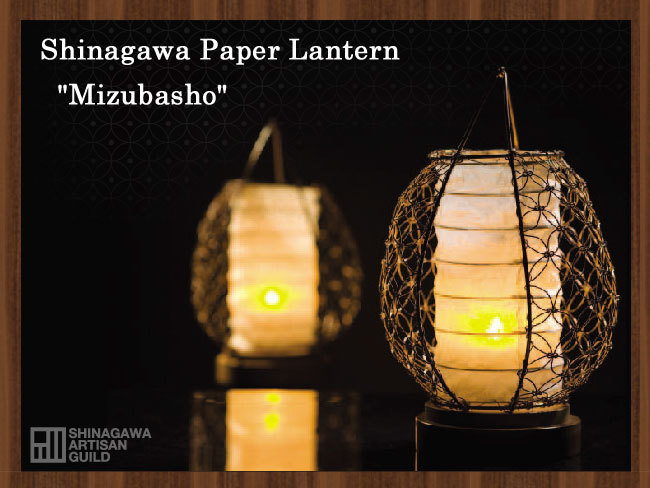 A noteworthy example of Japanese traditional beauty that has found its way to many countries around the world as the product of "wood and paper culture."
As the gentle light of the lantern illuminates the intricately woven wood, the Shinagawa Paper Lantern must be seen.
The idea for "Mizubasho" was from a comment made by a student majoring in fashion in Shinagawa. Masters of Japanese traditional crafts got together to make something that would match with the modern living space, and with a wire mesh, a lantern, and some woodwork, gave birth to a new creation.
The pattern of the mesh covering the lantern is called the "seven treasures link," and is an old technique. The pattern consists of circles that symbolize infinitely linked peace and integrity, and is perceived as the "world's treasure" and "infinite fertility," and is, not surprisingly, a very lucky pattern. The "wedding ring" quilt pattern is the same pattern.
In order to create the wire mesh of this "seven treasures link," with linked circles of thin bronze wire each overlapping exactly ? of its circumference, it requires intricate skill, and there are only a handful of craftsman in Japan who have mastered this technique.
A new spark of creativity transformed a traditional Edo art into this light of true beauty.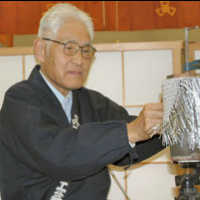 "Metal mesh" Yusaku Tsuta
Born in 1927 and lives in Osaki, Shinagawa.
He has been creating metal mesh and baskets with complex designs such as the "seven treasures link," the hexagonal pattern and the hemp leaf pattern, for over 60 years.
"Paper lantern"Hiroyasu Shimoda
Born in 1958 and lives in Higashi Gotanda, Shinagawa.
"Wood curving"Akio Kuroki
Born in 1917 and lives in Nishi Gotanda, Shinagawa.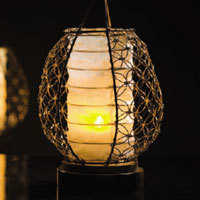 Shinagawa Paper Lantern "Mizubasho"
60,000 Yen (single)
110,000 Yen (a pair)
All Prices include the local sales tax.
Width 29cm x Depth29cm x Height31cm
Material Japanese paper,
bamboo, bronze wires
*Each one is handmade after we receive an order. Please be noted that we require about 2 months before we can deliver the product to you.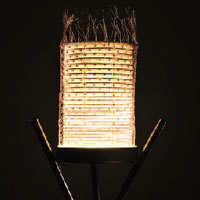 Shinagawa Lantern "Large Lantern"
*Sample
This is a custom made product and is used often at established hotels.
Please contact us for the size and the price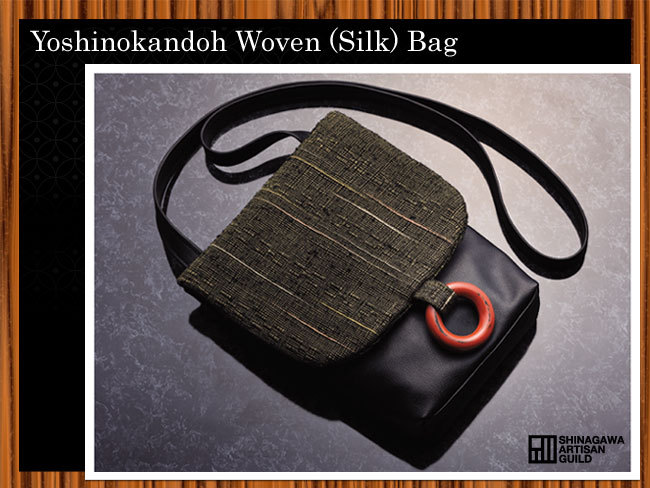 "Meibutsugire" is a special bag designed to hold the delicate implements used for tea ceremonies, and was developed in the Muromachi period. Japanese lacquer ware is one of the most famous Japanese crafts. Yoshinokandoh is a type of this Meibutsugire, and is characteristic for its thin and light weaving. The bag is a result of the fusion of these techniques, and suitable for both in and out of a Kimono.

The Artists: Weaving/Chiharu Fujiyama Lacquer ware/Katsushige Tanaka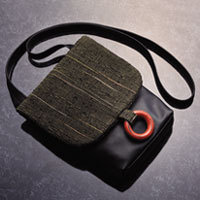 Shoulder bag
100,000 Yen
All Prices include the local sales tax.
Height26cm x Width21cm
Material/ Silk, Lacquer (clasp)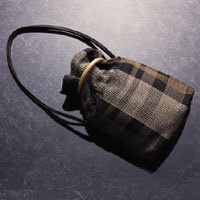 Pouch
60,000 Yen
All Prices include the local sales tax.
Height28cm x Width19cm
Material/ Silk, Lacquer (clasp)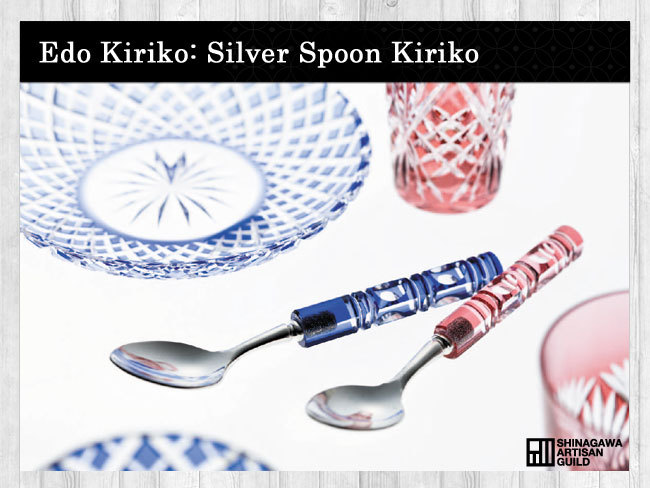 A silver spoon is a symbol of wealth.
In the west a silver spoon is a gift that wishes for the baby's healthy growth and future success.
When an elegant culture of the west meets an intricate Japanese traditional art -- the sparkling Edo Kiriko design -- a new world-class cutlery is born.
Starting with two layers, Kiriko is made from etching the colored glass layer covering a clear glass layer. In order to decorate the handle of a silver spoon, it required two very thin glass layers, and the artist had to then meticulously carve out a pattern on it. The biggest challenge was to create such a thin glass mold that was strong enough and yet delicate enough. However with the artisan's mastership of the craft, and of course many trials and errors, the groundbreaking product of the Kiriko silver spoon was born.
Edo Kiriko has been particularly popular and is widely used for practical goods such as sake glasses and vases. Similarly, the Kiriko developed by The Shinagawa Craftsmen Guild is not only a traditional art matched for this modern day, but also made with the desire that people use it everyday.
This special spoon would make a perfect gift for first birthdays, original mementos and many more.
Material/Crystal Glass by Kagami Crystal Co., Ltd. Kagami Crystal Co., Ltd. is Japanese imperial household orders' crystal glass manufacturers.
Kagami Crystal Co., Ltd.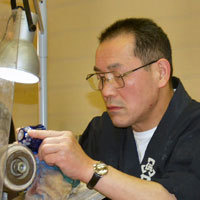 "Kiriko" Katsuhisa Kawabe
Born in 1943 in Shinagawa and still lives in Minami Shinagawa.
In 1988 he was certified as the Shinagawa Traditional Craftsman by Shinagawa Ward, Tokyo, and joined the "Shinagawa Traditional Craftsman Five." Since then he has been giving lectures and demonstrations at events hosted/sponsored by Shinagawa ward and at many district schools.
"Edo Silverware" Kazuo Seki - Takehiko Seki II
Born in 1936 and lives in Nakanobe, Shinagawa.
In 1990 was certified as the Shinagawa Traditional Craftsman by Shinagawa ward, Tokyo and has received numerous awards.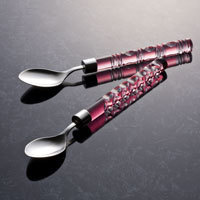 Pure Silver Kiriko
50,000 Yen (for two)
Stainless steel Kiriko
25,000 Yen (for two)
Length 16cm
All Prices include the local 5% sales tax.
*Color/Red,Blue (Your choice)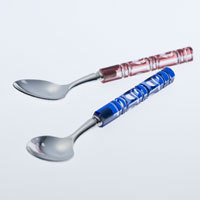 Edo Silverware Kiriko
35,000 Yen (single)
Length 13cm
65,000 Yen (for two)
All Prices include the local sales tax.
*If you order a single spoon it is only available in red. For orders of two or more, there is an option of the red or blue or a combination there of.